I know it seems like the only time I write these days is when there's a "link party" of some sort, or I find a cool website. Well, too bad! I'm partying again. And this time it's over at
chesterrific.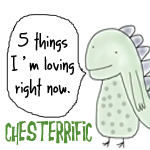 I've been a little down this week, especially considering it's almost midnight and I'm still at work. Ugh. I'll be really happy for my deadline on Thursday, but for now I'm giving myself a little break to take note of things that are making me happy at the moment. So here goes. 5 things.
1. More time at home. It seems that around the holidays it was GO, GO, GO, and GO some more, but fortunately for us, we've done nothing the past few weekends, and it has felt very good! I'm looking forward to a few more of those coming up as well! Although I am starting to feel a little lazy, even though I've been a cleaning machine. Time to get onto some 2012 house projects!
2.
My new CHI.
The first Valentine's that Brian and I were together, he surprised me with a straightening iron. He had actually researched to find the best he could, one that all the celebrities were using... the GHD (Good Hair Day). It was a total shock that he would devote the time to something that he knew I wanted, but had no prior knowledge of. Well, it served me well. Almost 4 years? Could that be right? It finally gave up. And he then took the initiative to buy me another one, but this time we went with the CHI. It. is. awesome. And it's a "save the earth" edition, which matches my bedroom. :)
3.
Words With Friends/Solitaire/Soduko/Word Search
- this is pathetic, and it is also why I haven't been blogging, and why none of our 2012 house projects have started. I am lame (and I'm not alone). My phone has caused me to become addicted to games. I can't put it down. I must beat my low time, my high score, my friends who think they are more creative than I am at spelling words.
4.
Google Reader.
If it weren't for this ingenious tool that arranges all the blogs I read into one big inbox, then I don't know how I would possibly know all the things I know today! Such a quick way to browse all those amazing house blogs I read.
5.
My bed.
I can't express this enough. It may be my favorite place in the world. It's comfy, and warm, and all around perfect. And if I could be there right now, I would be so happy. Oh how I miss thee. And shameless plug here... if you too would like a bed like this one, visit
www.sandersmonroe.com
The latex mattress is to die for.
Thanks for reading, and be sure to share the five things you're loving right now too!
CLAUSE: Although I'm sure you all know this already, but it seems Brian needs reassurance. I do happen to love him, my family, my cats, my house, and myself more than anything mentioned above. This is solely for the purpose of what I'm loving above and beyond the things mentioned in the aforementioned sentence.